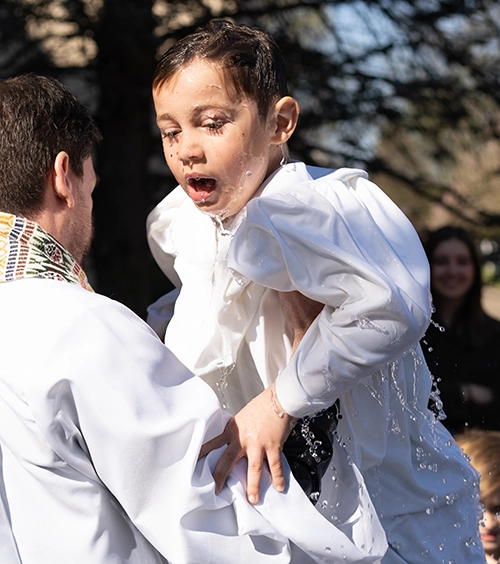 "And Jesus took a child and put him in the midst of them, and taking him in his arms, he said to them, 'Whoever receives one such child in my name receives me, and whoever receives me, receives not me but him who sent me.'" (Mark 9:36–37)
That's a profound statement! To receive a child in Jesus' name—for Jesus' sake—is to receive Jesus himself, and to receive Jesus is to receive the Father Almighty. Children are one of God's greatest blessings.
So at Church of the Resurrection, we cherish kids. We want our church to be full of them—even if that means a bit of chaos sometimes. We consider it our sacred duty to serve our kids and to shepherd them toward a life-giving relationship with Jesus.
Programs
During the summer, a nursery and kids' space is available for kids from infancy to (roughly) age six. The nursery is staffed by two adult members of our church.
During the school year, we have a nursery for kids from birth to three, as well as a class for kids from ages three through 3rd grade. The class uses the excellent God's Big Story curriculum developed by our ministry partners in the Anglican Network in Canada.
Babies and kids are also welcome to stay in the sanctuary with their parents. There is a collection of books, coloring sheets, and activities at the back of the sanctuary that kids may enjoy during the service.